Application Preferences
You can change many of the settings that affect the application's behavior in the Preferences dialog.
To open the Preferences dialog, do one of the following:
From the

Tools

menu, select

Preferences

.
In the

Application Command

bar select

Support

tab, click

Preferences

.
See description of each tabbed preferences page below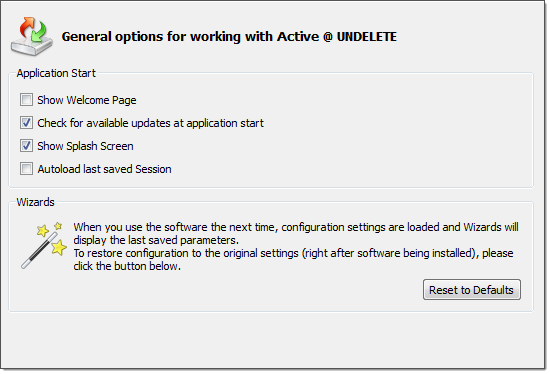 General Settings Options
Show Welcome page

Show\Hide welcome dialog at application start.
Check for available updates at application start

Each time when

Active@ UNDELETE

starts it will request for available update\upgrade and prompt for download if newer version is available for download.
Show splash screen

Enable\Disable splash screen at application start.
Auto load last saved session

When this option is on, at application start

Active@ UNDELETE

will load latest saved session state, such as environment configuration, opened

Disk Images

and

Scan Results

.
See Using Scan Results
Reset wizards to default

Restores original wizard settings and page sequence to default state.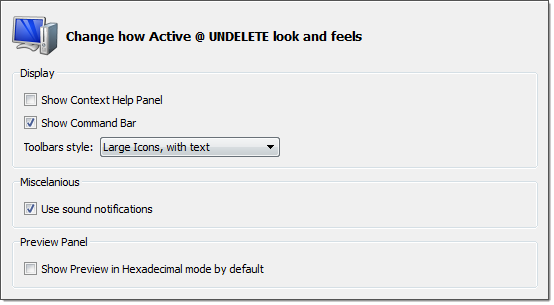 Environment Options
Context help panel

Show\Hide left side context help panel. Context help will automatically changed when active view (tab) is changed to show related hints and brief description of every view.
Show command bar

Show\Hide right side command bar that contains shortcuts to most usable commands and actions.
Use sound

Enable\Disable application sound notifications.
Hexadecimal file preview

When this option is on, file preview by default will be always shown in hexadecimal mode without any attempt to load it as an image or a document.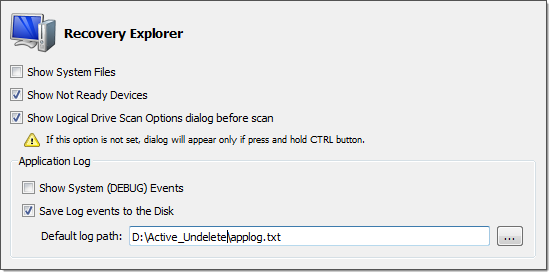 Recovery Explorer Options
Show system files

Show\Hide system files in Recovery explorer. In most of the cases these files are not recoverable.
Show no ready device

Show\Hide devices that has not read state and can not be scanned.
Show Logical Drive scan dialog by default

When this option is OFF, double click logical drive (volume) node in Recover Explorer view will initiate scan with default (most usable) options. Only when CTRL button is pressed down at the same time or this option is off, Scan Volume dialog will appear and let you to change scan options.
Show system events

Show\Hide system events in application log.
Save log file to disk

Enable\Disable saving log entries to the file. Use Default log path to specify log file.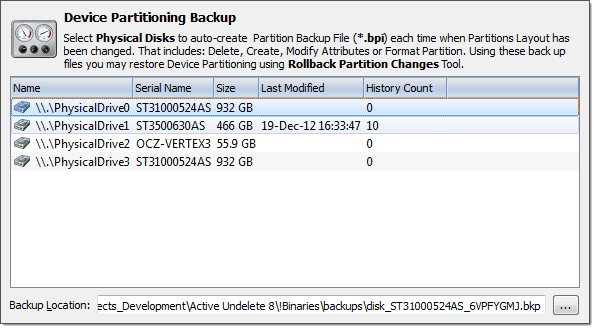 Device Backups Options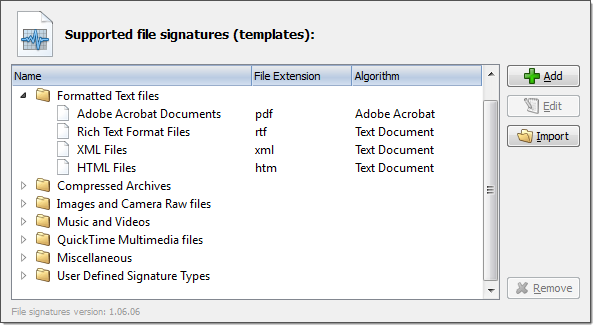 File Signatures Options
File signatures list

Review available (supported) file signatures. User defined file signatures (if any) are shown in separate group.
Add file signature

Click

Add

button to add user define file signature.
See User Defined file templates.
Edit file signature

Click

Edit

button when custom file signature is selected or double click custom file signature node to open edit dialog.
Import Custom file signatures

Click

Import

button to import custom file signatures define in third party configuration file.
See Also
User Defined file templates