Search for deleted files and folders
To help you find deleted files in a long list of files from a scanned drive, you may search the list with specific search criteria and review results in a Search Results View.
1. Select a scanned logical drive or scanned detected partition
2. To open the Search for Files and Folders dialog box, do one of the following:
From the main toolbar, click Search.
Right-click the selected item and click Search from the context menu.
3. Inter search criteria in Look for and other search options (if required) and click Search button to start searching in selected location.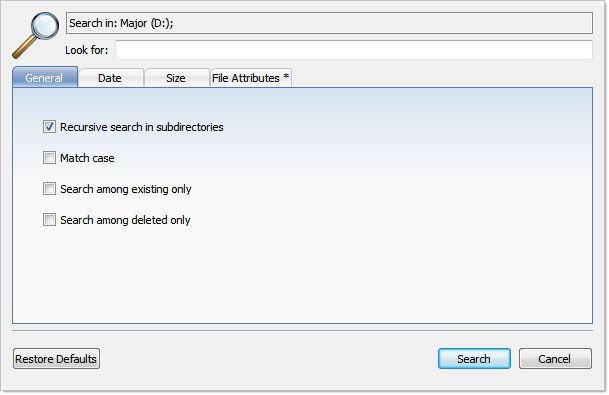 General Search Options
Recursive search in subdirectories

Use this option to search the root level of the drive and all sub folders. To search only the root folder, clear this check box.

Match case

To display files that match upper and lower case letters in the Look for field, select the Match case check box.

Search among existing only

To display only files that are not deleted, select the Search among existing only check box.

Search among deleted only

To display only files that are deleted or damaged, select the Search among deleted only check box.
To display files by a specified date, in the Date Criteria tab, in the Date Type drop-down list, choose a type and select a date range.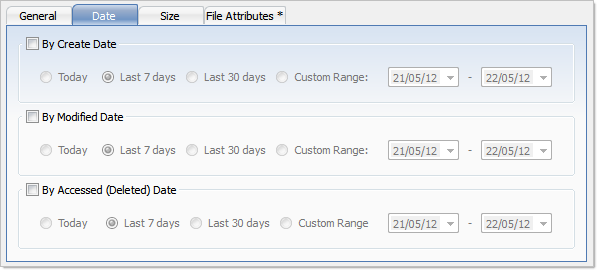 To display files by a specified file size, in the Size tab, select Small, Medium or Large, or specify the size range in KB.
To display files based on file attributes in, the File Attributes tab select file attributes that should be present (Include Files and Folders Attributes) or otherwise exempt (Exclude Files or Folders with Attributes) in search result.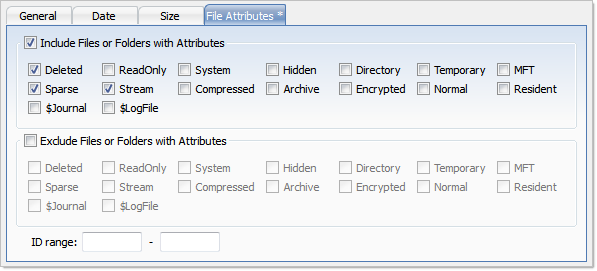 To change all settings back to defaults, click Restore Defaults.
4. Click Search to start searching process.
To display disk image events and progress details, click Details. To terminate the searching process, click Stop at any time. In this case search results may be not accurate or complete. After the search is done, a Search Results view appears.
You may repeat a search many times and refine the search criteria for better results.
Result:
After search complete, Search Results View must appear with search results (if any for provided criteria). You can repeat steps form 1 to 4 for desired effect.