Recover files and folders
After you can see partitions on a device, the file recovery process consists of three stages.
Scan Disk
Select Volume (Logical Drive) scan in Recovery Explorer and scan the chosen drive for deleted files.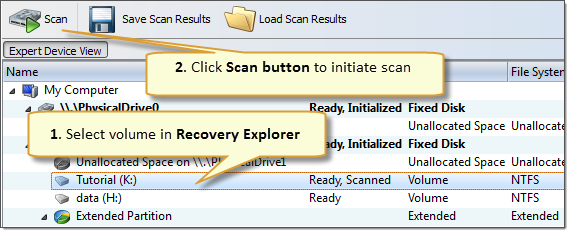 See: Volume scan
Analyze Scan Results
A Logical Drive scan result appears in the Logical Drive Scan Result View where results can be reviewed and files selected for recovery.
File Grouping - detected files can be grouped for better analyzing by using the Group By drop-down menu in the toolbar. Detected files can be grouped by:
File Extensions;
By Associated Applications;
By Date (Created Date, Modified Date and Accessed or Deleted Date);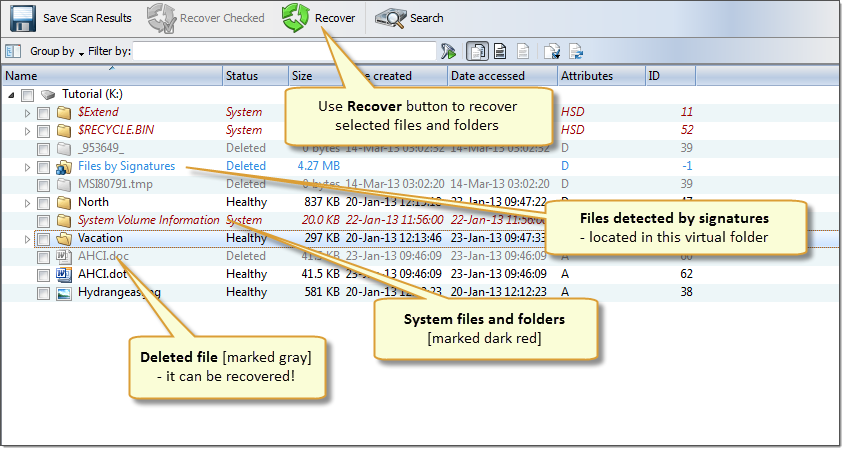 Search and Filtering - detected files can be filtered by name, extension or deleted status by using the File Filter Toolbar. For more narrow results Search for deleted Files and Folders can be used.
Recover Detected Files
You may recover damaged or deleted files and folders directly from the Logical Drive Scan Result View or the Search Results View. See: Recover files and folders