Scan for deleted partitions
Detected partition can be scanned as any other Logical Drive for Files and Folder. You can scan detected partition to verify partition content before partition restoration or to be able to recover (copy) files to safe location if partition was deleted or damaged. To scan a physical device for deleted partitions:
1. In the Recovery Explorer select a disk (physical device) node. Open Scan Disks dialog box:
Click Scan button in view's toolbar
Click Scan command from context menu
Double-click and disk (physical device) node
2. Define scan range and other scan options if necessary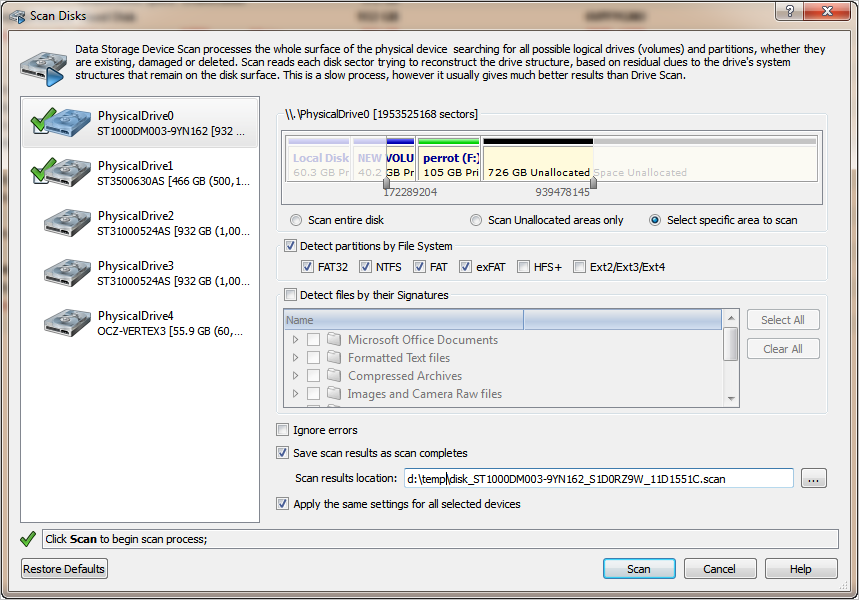 Dialog options
Multiple drive selection

Additional disks can be selected to scan on the Physical Disks list to be scanned simultaneously. At least one disk must be selected.

Scan area

Select scan area using predefined options: Entire Disk, Unallocated Only or Specific Range — use arrow markers to mark scan area;

Scan area markers shown first and last sectors of scanning area. To enter exact start and end sectors to scan click on sector label and enter exact value in text field

File System lookup

Select desired File System of a partitions to be detected;

Ignore Errors

Ignore disk Read/Write Errors;

Save Scan results

Enter path, where scan results will be saved as soon as scan completed;

Detect files by their signatures

Select this option to specify exact file types to be detected during the scan. With this option, device scan reads each disk sector trying to reconstruct any possible data related to unique file format.

Turn this option off when you only want to detect and restore partition - it will significantly save your scanning time.

Apply the same settings to all selected devices

All scan options above, can be selected for each drive individually or, when this check box is selected, to be the same for all selected logical drives.
3.Click Scan to begin scan process