Recover files and folders from existing volume
Active@ UNDELETE is an advanced data recovery tool designed to recover data lost or deleted data, or even information from formatted hard disks.
In most used cases, files needs to be recovered from existing disk volumes (logical drives) after accidental deletion or due to software malfunction.
To recover detected files:
1. Scan volume
In order to recover deleted files from existing logical drives (volumes) the must be scanned first individually or several at once. For exact volume scan procedure read: Scan a volume (logical drive) for deleted files
2. Analyze Scan Results
A Logical Drive scan result appears in the Work with logical drive scan results on page 16 where results can be reviewed and files selected for recovery.
File Grouping - detected files can be grouped for better analyzing by using the Group By drop-down menu in the toolbar. Detected files can be grouped by:
File Extensions
By Associated Applications
By Date (Created Date, Modified Date and Accessed or Deleted Date)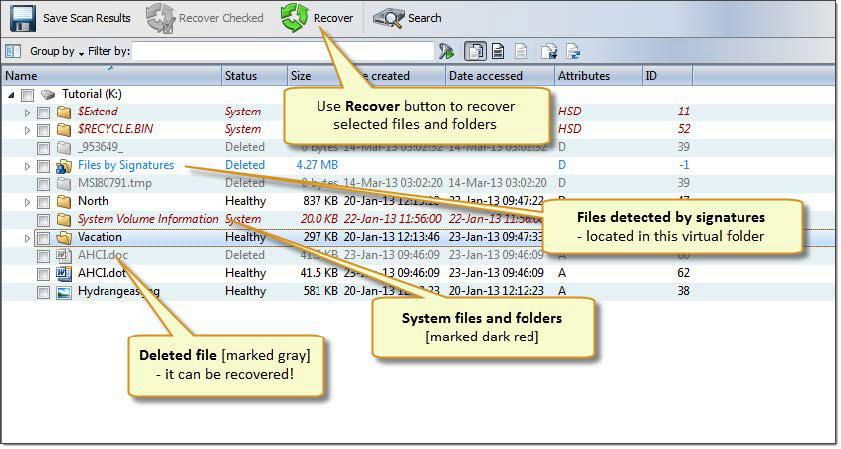 Search and Filtering — detected files can be filtered by name, extension or deleted status by using the File filter toolbar control. For more narrow results Search for deleted files and folders can be used
3. Recover files
You may recover damaged or deleted files and folders directly from any view that presents files, such us:
Files also can be organized in groups before actual recovery by using File Organizer tool.
For more information about file recovery options read: Recover detected files.
4. Repeat [optional]
Repeat steps 1-3 for different volumes using different scan attributes for better results if necessary.